Today, I watched the Lone Survivor with two friends and was once again reminded of the brevity of life, the importance of principle and the value of friendship. I found the movie to be a masterful combination of plot, emphasis and character development. It is tough to capture the breadth emotions present in Marcus Luttrell's detailed book in two hours, but the movie does capture the heartbreak, the passion, the sacrifice of modern warfare — all juxtaposed with the rapid transition from the safety, comfort and contentedness of modern forward bases. Further contrast comes from American optimism ("Good things happen to good people, right?") with middle-eastern determinism, but nothing hits you harder than the fierce determination of the seals contrasted with our comfortable armchair warrior lives.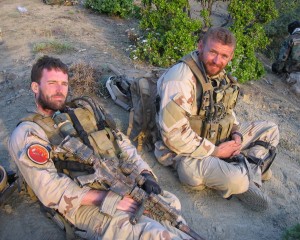 First, the film captures war in a modern, gritty and raw manner we've come to expect since saving private Ryan. You feel the disorientation as the seals egress down the escarpment, slamming into trees and trying to keep their bearings. There is also the brief character development, followed by painful and heroic actions that saving private Ryan gave us. In the first act, we are introduced to each of the four main characters who left their homes and loved ones to serve their country. We see not just the pictures of wives, girlfriends, children etc., but we are given an emotional anchor to each to give us a sense of what fuels and motivates them. This highlights the emotions we feel in the subsequent (and inevitable) loss.
Given my background in the Pentagon, the movie did a masterful job of pushing questions at the audience that arise from the intersection of policy, necessity and passion. These issues were treated in a way that did not oversimplify them, but left a lot up to the audience. I'm constantly amazed with how complicated we make simple things: in war, there are good and bad guys — not a complex spectrum of morality. This is also true at the macro scale. Foreign policy is not abstract. Each nation, each person, each village, seeks its own self interest. Americans want to win. These guys, as pathological as they were with their bodies and pursuits, wanted deeply to win. There is great honor in that. They wanted to defend their brothers, they wanted to live and die with honor, they wanted to live to die another day. Listen to the key (and terse) monologue of the movie:
"If I die I want you to make sure that Cindy knows how much I love her, and that I died with my brothers with a full … heart."
What a code of honor: to love those around you and sacrifice for them. To die with a full heart. What could be more simple?
I'm also amazed with how simple the public makes complex things. In other reviews, I've read many criticisms of the key decision of the movie: to let the shepherds live. One reviewer even remarked that they should have tied stones to their captives' feet. In another famous review, much has been made of the polarizing nature of who is good and bad. There is no doubt, the decisions that are made in combat can be extremely complex with far reaching consequences. There is also the complex, multi-scale and multi-dimensional nature of warfare. Once you start a forced engagement, you can't stop without dealing with the second and third order effects, and we leave these guys to get whipped around as logistics and policy (rules of engagement) fluctuate.
For a second, I found it amazing how small a crowd these folks are. There are millions of Americans, with millions in the defense business, and there are just 4 of them out there on a mountain, bumping into a shepherd. For me, I felt that I was there with them wanting to throw the labor of my hands their way. The technologist in me kept leaping out: give them some communications! Give them some overhead armed surveillance! We have hundreds of reapers and we didn't have one there to provide a communications relay for these guys? How about a repeater on a U-2 at 50,000 ft? Can't we give them a model rocket that beacons out past any horizon limitation the MGRS (location) and a mayday code? As these thoughts surged through me, I realized that I am in this fight. That I want to win too. That I want to fight, in any way I can. Not for the abstract amalgam of principles that has us in a protracted war in Afghanistan, but because it is in my nature to sacrifice, to fight and to win — for my faith, my self, my family, my state, my country and my friends.
In a recent interview on CNN, Jake Tapper used this movie to force an unwelcome question on us:
Tapper: It seemed senseless. I don't mean to disrespect in any way, but it seemed senseless — all of these wonderful people who were killed for an op that went wrong.

Luttrell: We spend our whole lives training to defend this country and then we were sent over there by this country — so you're telling me because we were over there doing what we were told by our country that it was senseless? And my guys — what? They died for nothing?

Tapper: No.

Luttrell: That's what you said. So, let me just say, it went bad for us over there, but that was our job. That's what we did. We didn't complain about it.
What Markus Luttrell is saying is: we signed up for this. This is not about the philosophy. This is about the fight in us and the duty he holds sacred.
I was reminded today of how prescient Lincoln's Gettysburg address was on this very topic. Men do die in vain, if we do not do our part to give their sacrifice meaning.
But, in a larger sense, we can not dedicate — we can not consecrate — we can not hallow — this ground. The brave men, living and dead, who struggled here, have consecrated it, far above our poor power to add or detract. The world will little note, nor long remember what we say here, but it can never forget what they did here. It is for us the living, rather, to be dedicated here to the unfinished work which they who fought here have thus far so nobly advanced. It is rather for us to be here dedicated to the great task remaining before us — that from these honored dead we take increased devotion to that cause for which they gave the last full measure of devotion — that we here highly resolve that these dead shall not have died in vain — that this nation, under God, shall have a new birth of freedom — and that government of the people, by the people, for the people, shall not perish from the earth.
This is a movie at its best. Not just a well scripted and executed scenes, but a mirror into a world far away, but one that forces you to look at yourself and ask what you are made of, why you are here, and what you are willing to do about it. My next Murph will certainly have a little more heart in it.