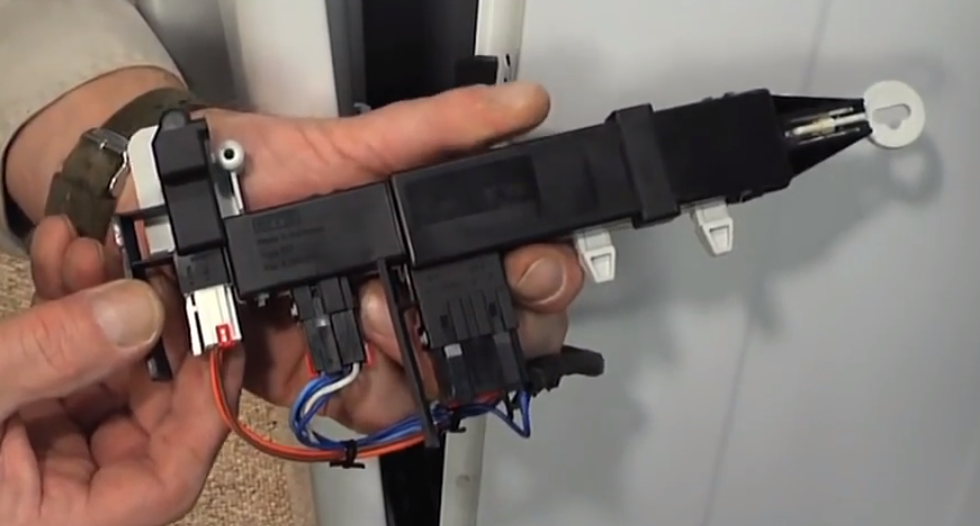 Amana 7200TW Door Latch Replacement
Quick post, just to help others who might find themselves in a similar situation regarding a front-end loader washer with a door latch that doesn't close
Big trouble . . . door latch broke on our amana front end loader. First thing I do when I need to fix something is look for ownership so I can decide which part to get. A quick appliance 411 showed me that they are owned by Maytag which has been part of Whirlpool since 2002. This problem bothered my wife for months as she put heavy stuff in front of the washer. From extensive travel and work, I just found out tonight that I needed to get this fixed, stat.
First thing to do . . . get an exact part number, so I took a picture of the model number from the back.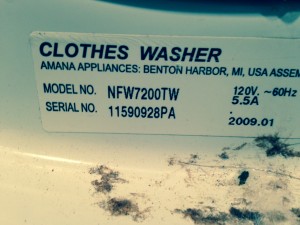 Yes, I could read this and type it in search engines, or I could just push through an online ocr tool like http://www.onlineocr.net/ and get:
CLOTHES WASHER AMANA APPLIANCES: BENTON HARBOR, MI, USA ASSEA MODEL NO. NFW7200TW 120AV. -60Hz 5.5 SERIAL NO. 11590928PA 2009.01 

Several months ago, we ordered this, but appliancepartspros sent us a slightly different part and I had to modify it with an angle grinder to remove the bevel.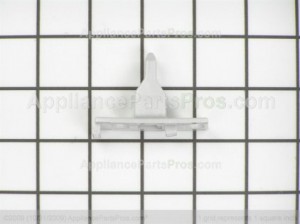 In the end this didn't work at all, which was incredibly frustrating. So tonight, I did a new web-search and found this video on youtube, which convinced me to replace the receiver, which looks like this: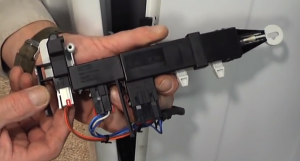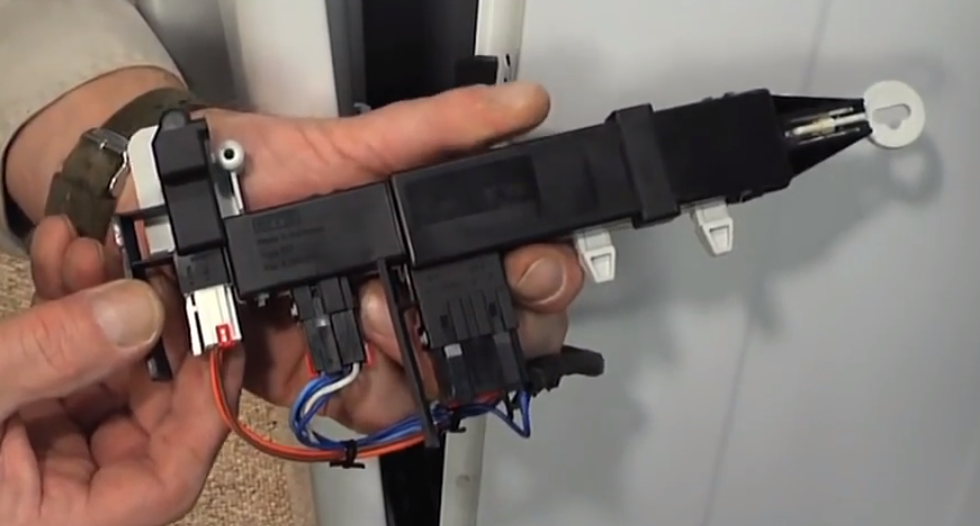 I found this part cheaper on amazon here and found a nice summary of all parts here.
Importantly, I found the rosetta stone below that let me know that the best part number to search on was 8182634.
Part Number 8182634 (AP3837611) replaces 34001265, 8181700, 1094190, AH972231, DC64-00519B, EA972231, PS972231.

They also had another good video here and I confirmed using Appliance Compatibility Tool that "Yes- This high quality, original factory replacement part is compatible with NFW7200TW10."
I didn't want to be delayed by missing the correct strike, so I found the Whirlpool 8181651 Door Strike here (it seemed the cheapest) and quickly bought it for ~$5.
The whole fix took about 30 minutes. The most difficult part was keeping track of the screws. Some of the front screws were really tight and I had to use a drill. The top took a lot of tugging and pulling to get off.