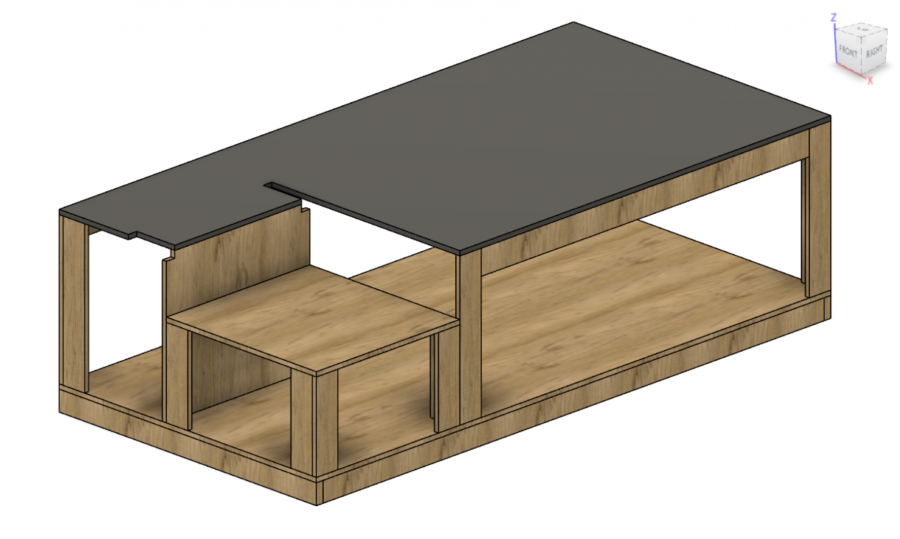 In building out my workshop, I was tired of setting up sawhorses the garage and realized that I needed to better use the floor space of my shop. Nearly everyone has a 4x8 workbench. They are quick to make and super useful.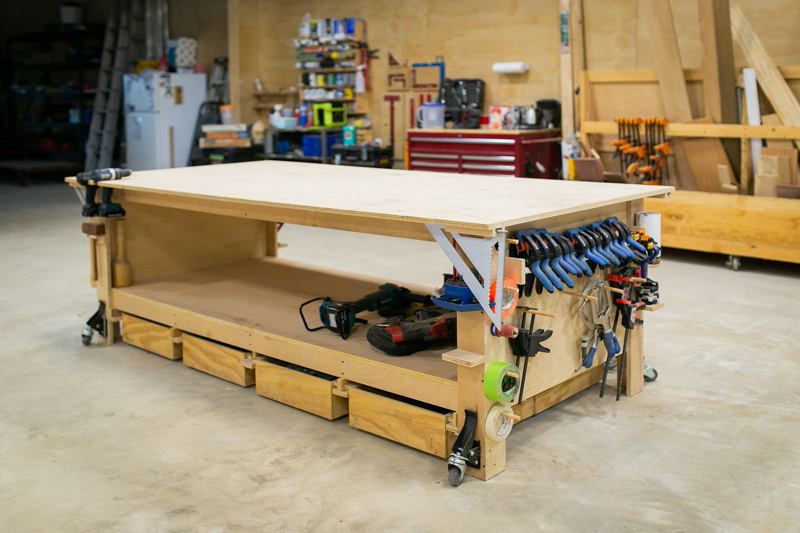 For me I wanted an outfeed table and a common surface to cut with my festool track saw. I also wanted a cabinet makers vice and a holddown system based on t-tracks or MFT hardware. Valchromat seemed like a good surface for the top and I was inspired by April Wilkerson to use two other sheets of plywood for the rest. I also plan to use a Workbench Caster kit that retracts to give me the benefit of a table that is firmly planted to the ground. Unlike other designs, I planned for the bottom base of plywood to directly touch the ground, since I didn't see a benefit to having space underneath the table.
Important storage needs were for my festool systainers, my growing collection of jigs and saw blades.
The sole complication of my design was incorporating my table saw. This will save a lot of space and provide me an outfeed table, but requires modifying the design to ensure the top is flush and that I have openings for the range of motion for tracks and fence guides to continue.
This design doesn't have any paths for the T-tracks, but has built openings for the guide rails.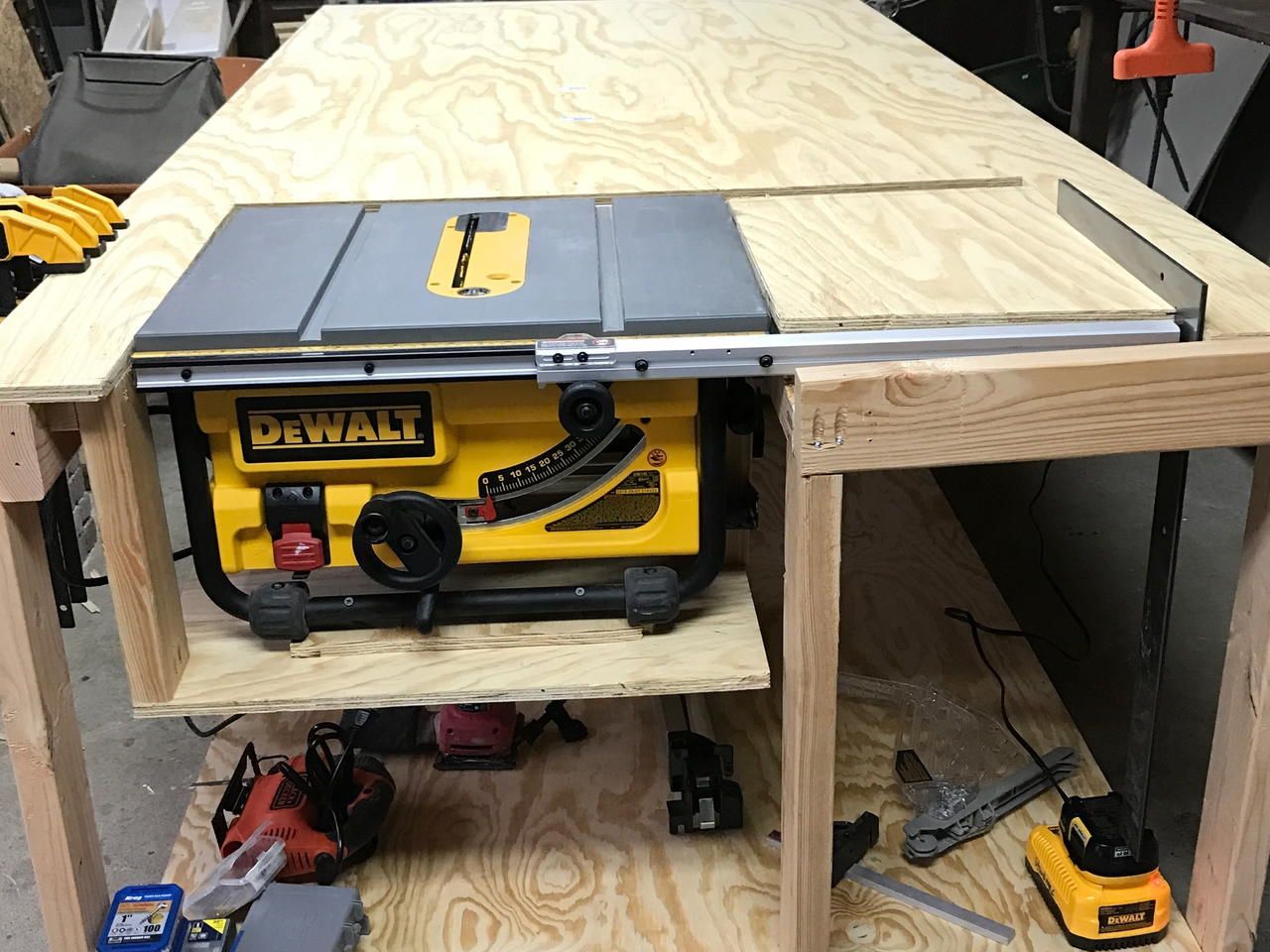 To get me thinking through my design, I did a quick design in Sketchup.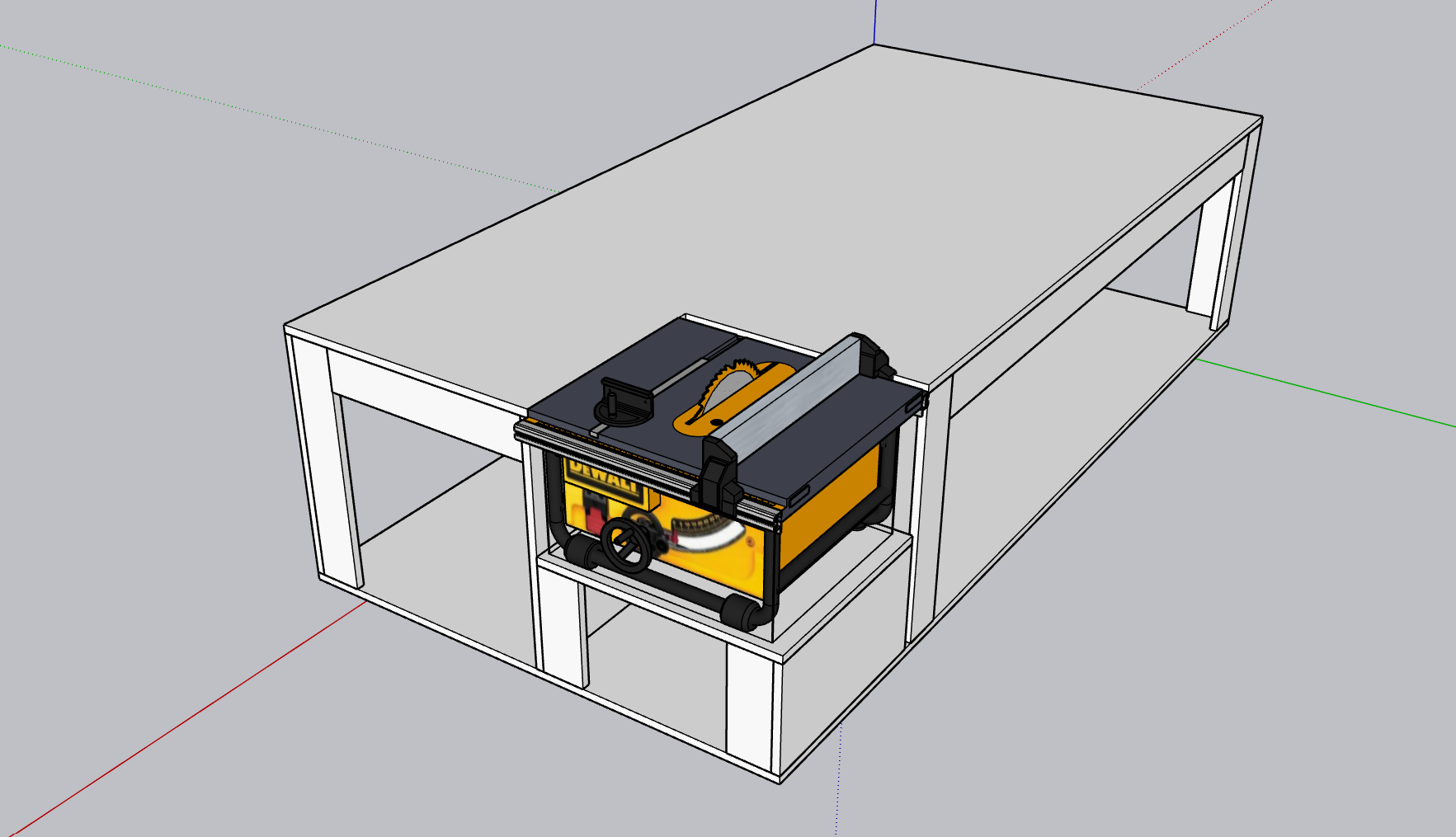 Once it was time to get serious, I used Fusion 360 to build a refined design. Fusion 360 uses parametric modeling which gives me the ability to modify the model as I take measurements. That really mattered here since I was building the design on the way home from the beach.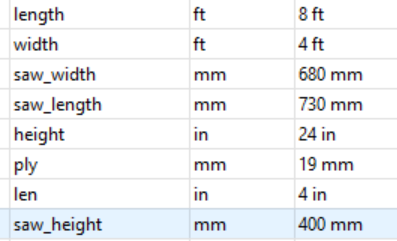 Fusion 360 is a serious modeling solution and I added more detail, like the ability for the fence to go to the left of the saw. I plan to use my car jack to set the table to the a perfect height, so I'll make the final cuts later.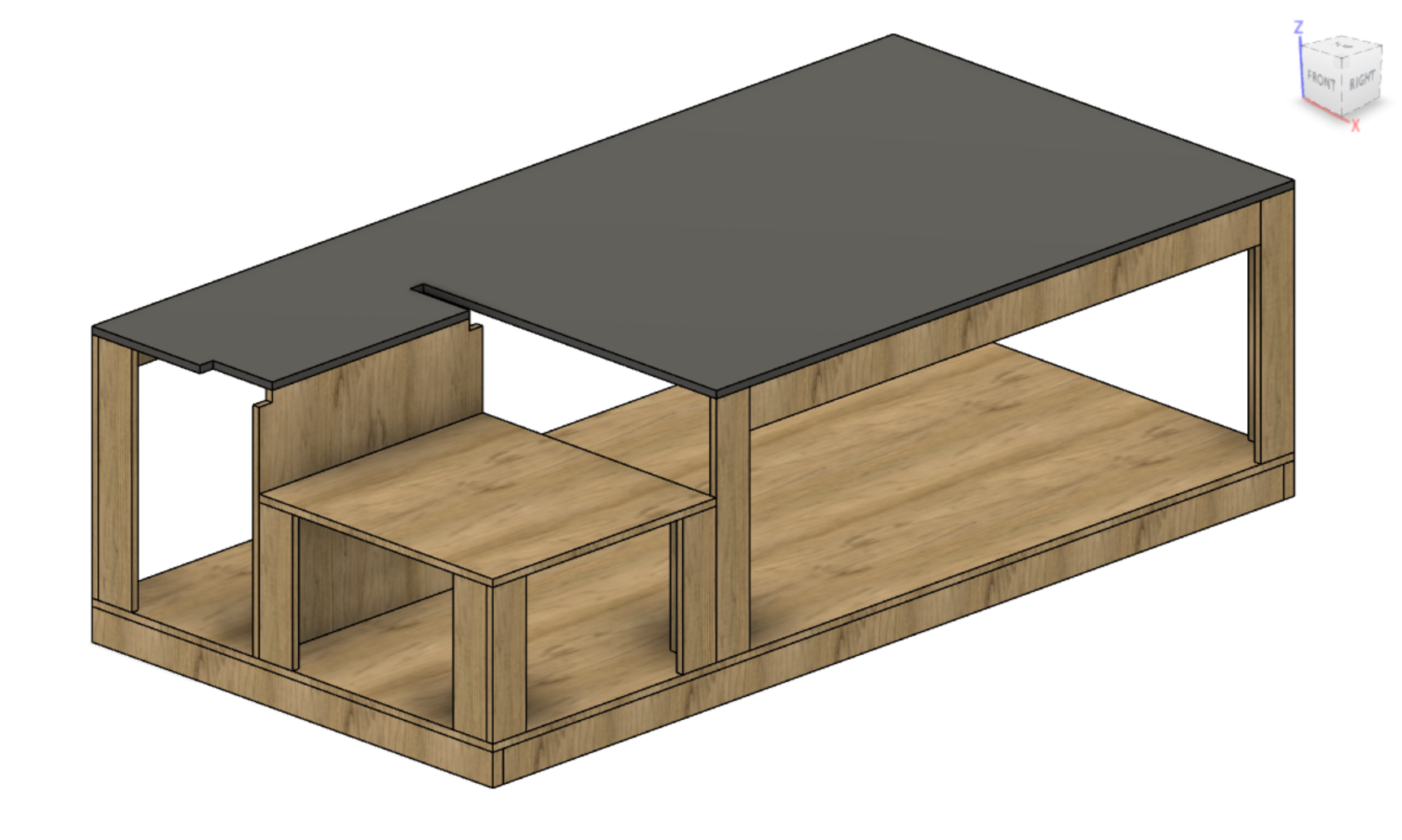 For all joinery, I use Kreg pocket screws with 2.5 inch cabinet screws. I tend to like McFeely\'s and square drive, but Home Depot is so much easier, and they store GRK Fasteners with star drive heads that don\'t strip.
One of the best features of Fusion 360 is the Map Boards Pro extension that allows to generate a cut-list and creates all the relevant bodies as a flat-pack.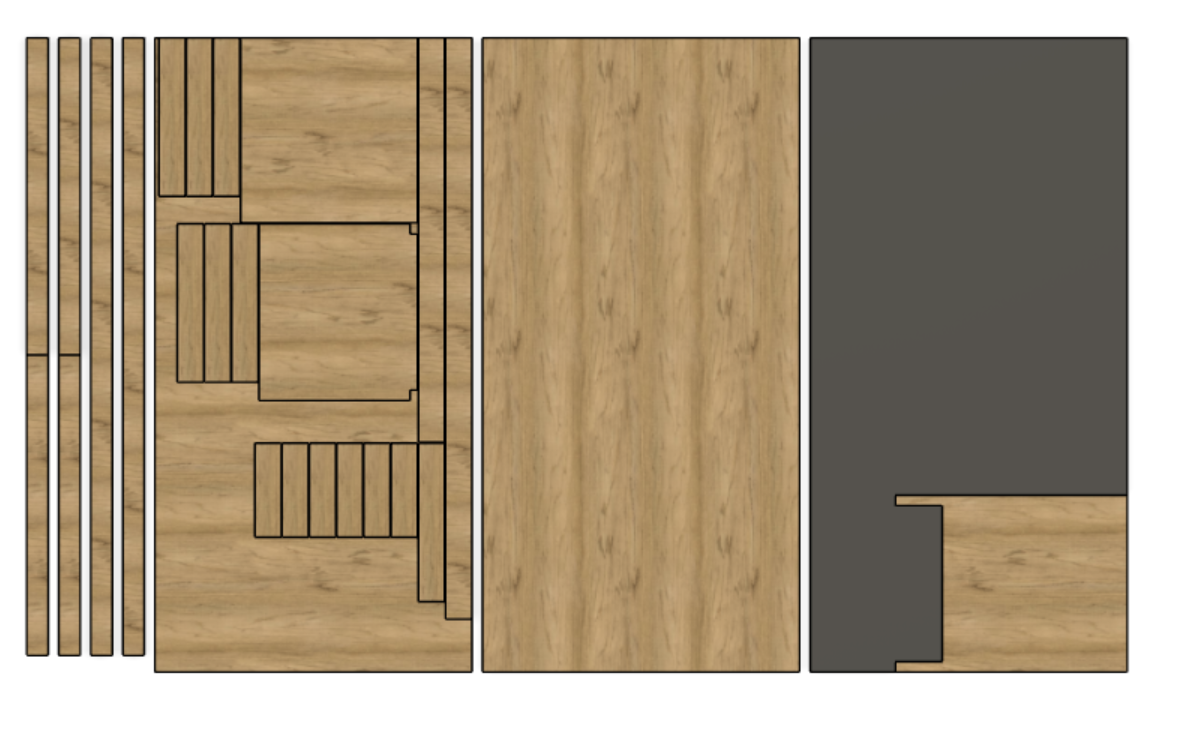 However, I like cutlist optimizer\'s layout better, I just upload the cutlist exported from MapBoards pro.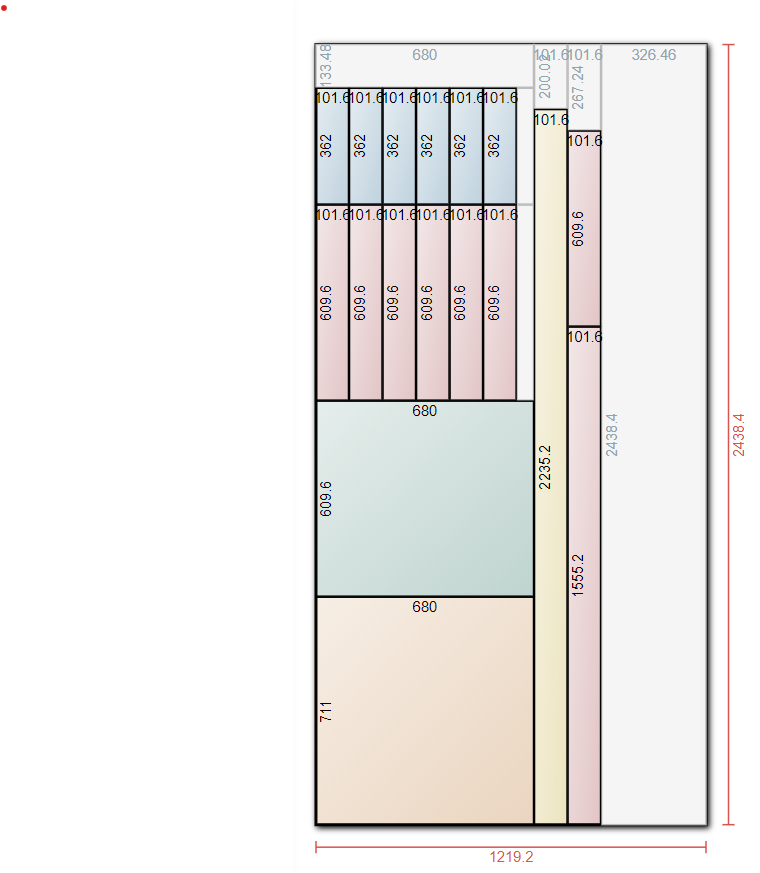 << shell picture >>
After building the shell, it was time to figure out what I wanted to store.
<< list items here >>
store foam for framing (30X40 acid free mat boards)
I now https://www.makeitfrom.com/material-properties/Medium-Density-Fiberboard-MDF
I made the top from mdf because I wanted the smooth top and the accuracy of MDF. I didn't glue the top to give me the option to replace it.
I also wanted to be able to easily store my festool guide rails. The rail is 183mm wide, plus additional 2-3mm plastic lip.
I wanted to make an MFT table as well:
The holes in a MFT are 20 mm in diameter, and are spaced 96 mm center to center.
in making theinternal
Mistake
The casters couldn't hold the weight.
purchased this aluminum